Stunts are a part of every movie in the film industry. Telugu movies as well have excelled in stunt sequences. Some of the best stunt scenes are listed below:
Baahubali 2
This is a 2017 movie starring Prabhas and Anushka Shetty. Amarendra mounts an elephant by walking up its trunk with the animal's assistance. Other unimaginable stunts in the movie are the war-time gimmick involving palm trees, shields and Newtonian physics towards the end.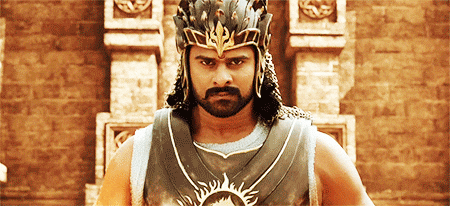 Magadheera
It is a 2009 movie starring Ram Charan and Kajal Aggarwal. The hero falling from a helicopter is breathtaking in the movie.
#RamCharan the Horse Rider 🐴🎠 #Magadheera ✨ pic.twitter.com/toS2peXEh1

— RamCharanEdits™ (@RamCharan_Edits) June 1, 2017
Dammu
This is a 2012 movie starring Jr. NTR, Trisha Krishnan and Karthika Nair in the lead roles. NTR was very cautious and even composed few fights under the supervision of Ram Laxman. Cannon blasting scenes shot at Pollachi would be one of the highlights of the film.
Mirchi
This is a 2013 film starring Prabhas, Anushka Shetty and Richa Gangopadhyay in the lead roles. The action sequence of the hero's fight in the rain is mesmerizing.
Naayak
This is a 2013 movie featuring Ram Charan, Kajal Aggarwal and Amala Paul in the lead roles. Action sequences in the movie were a treat for the fans. For instance,  Azaz Khan was to fall on a car. After his fall, the windscreen of the car was scheduled to crack is one of the uncommon scripts.
Chirutha
This is a 2007 movie starring Ram Charan Teja and Neha Sharma in lead roles. Charan also retaliates with a gun and kills some of Biku's men. The stunt in this scene is amazing and interesting.
Vikramarkudu
This is a 2006 movie starring Ravi Teja, Anushka Shetty and Vineet Kumar in the lead roles. The hero fights with Titla on a rope bridge which is mindblowing.
Singam 2
This is a 2013 film starring Suriya. Suriya's sea stunt in the film is noteworthy.
Badrinath
It is a 2011 movie starring Allu Arjun in a leading role along with Tamannaah Bhatia and Prakash Raj. The actor learned martial arts in Vietnam for this film. Allu Arjun's movies are always a pleasure to watch. This movie is not an exception.
Yevadu
It is a 2014 film featuring Ram Charan, Shruti Haasan and Amy Jackson in the lead roles. There are so many stunts that you can't tell one as exceptional that another. Yevadu was a hit due to the stunts as well. The fight sequence with the villain is mindblowing.